Superfood Face Firming Serum 30ml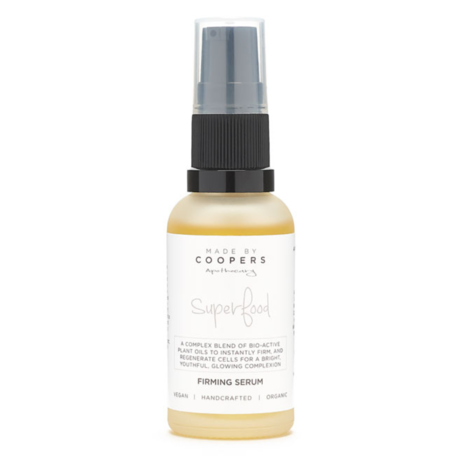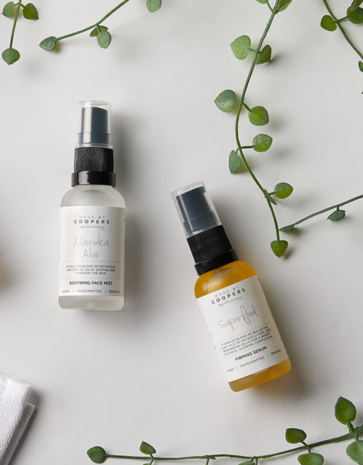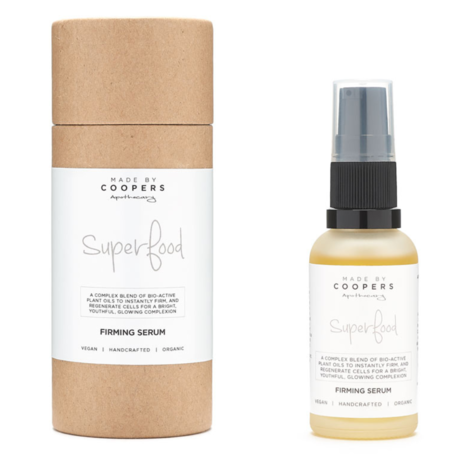 Product description
To keep your skin healthy, it needs nourishment. Not only from the inside, a nourishing product can also have a positive effect on your skin from the outside. And what could do that better than Made by Coopers' Superfood Face Firming Serum? This rich serum based on botanical active ingredients makes the skin feel super hydrated and supple, a separate day cream or moisturizer becomes unnecessary (but remember to add an SPF if you go outside). The bioactive plant oils in Superfood Face Firming Serum nourish the skin cells, have a firming effect and contribute to an even, radiant complexion. The serum contains superfoods that provide antioxidants, omega fatty acids and vitamins to the skin, like chia seed oil and broccoli seed oil. These protect the skin, hydrate intensively, fight premature skin ageing and stimulate optimal cell renewal, making the skin look radiant and youthful. The serum is suitable for all skin types and should be applied in the morning after cleansing.

This is what the Made by Coopers Superfood Face Firming Serum does for you
  Natural aromatherapeutic effect: invigorating
  Rich and nourishing serum that intensively hydrates the skin
  Stimulates cell renewal and keeps the skin elastic
  Fights skin ageing and gives the skin a beautiful glow

How to use Made by Coopers Superfood Face Firming Serum
Hold the bottle at an angle and dispense two to three drops into your palm. Rub your hands together to warm the serum. Apply the serum by gently pressing it into the skin and massaging it into the face and neck. Do you have a very dry or dehydrated skin? You can also add a few drops of the Superfood Face Firming Serum to your day cream for extra nourishment and hydration.

Active ingredients
Hemp seed oil: contains omega fatty acids that have anti-inflammatory properties. Gives the skin a beautiful glow.
Pomegranate oil: rich in antioxidants, omega 5 and ellagic acid. Stimulates the collagen and elastin production for firmer skin.
Chia seed oil: omega-rich oil that reduces the appearance of fine lines and wrinkles and improves skin elasticity.
Broccoli seed oil: rich in vitamins A, C and K. Retains moisture and visibly plumps and rejuvenates the skin.
Baobab seed oil: rich in protective antioxidants that fight harmful free radicals, reducing signs of skin ageing and stimulates healthy cell renewal.
Passion flower: rich in omega 3, 6, 9, vitamin C and calcium. Nourishes, hydrates, soothes and protects the skin.
Black cumin: contains vitamins A, B, C, potassium and magnesium that support skin repair.
Spilanthes acmella flower: botanical extract that has a firming effect on the skin.

All benefits
With an invigorating aromatherapeutic effect
Nourishing day serum with plant-based, bioactive superfoods like hemp seed oil, chia seed oil and broccoli seed oil
Rich in omega fatty acids, antioxidants and vitamins that nourish and hydrate the skin
Intensively hydrates and nourishes the skin, making a day cream unnecessary
Suitable for all skin types
Keeps the skin supple and elastic
Reduces fine lines and wrinkles
Stimulates cell renewal and has a firming effect
Gives the skin a fresh glow
Handmade with organic ingredients and sustainably produced
Packaged in glass bottle
Vegan; registered by The Vegan Society
Cruelty-free
100% free from parabens, SLSs, mineral oils, palm oil, sulphates, artificial colours and synthetic fragrances
Combine Made by Coopers Superfood Face Firming Serum with:

Made by Coopers Rose Divine Hydrating Face Mist

Made by Coopers Luna Goddess Night Serum

Ingredients/INCI-list
Cannabis Sativa (hemp) Seed Oil, Passiflora Edulis (passion flower) Seed Oil, Adansonia Digitata (baobab) Seed Oil, Salvia Hispanica (chia) Seed Oil, Brassica Oleracea Italica (broccoli) Seed Oil*, Prunica Granatum (pomegranate) Seed Oil, Isoamyl Laurate, Nigella Sativa (black cumin) Seed Oil*, Caprylic/Capric Triglyceride, Citrus Nobilis (mandarin), Tocopherol (vitamin E), Isoamyl Cocoate, Helianthus annuus seed oil, Spilanthes Acmella Flower Extract, d-Limonene, Linalol

*=certified organic ingredient

Caution
Keep away from children and pets. Do not drink. In case of contact with eyes, rinse thoroughly with cold water.