Revive Essential Oil 10ml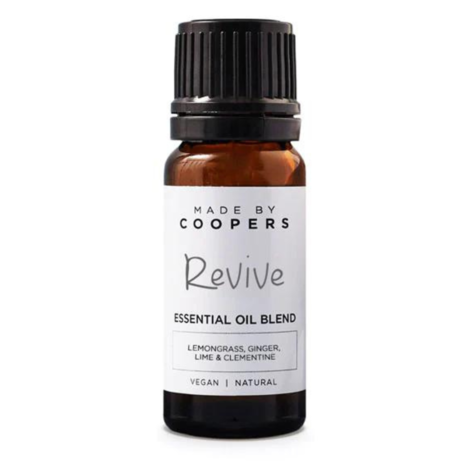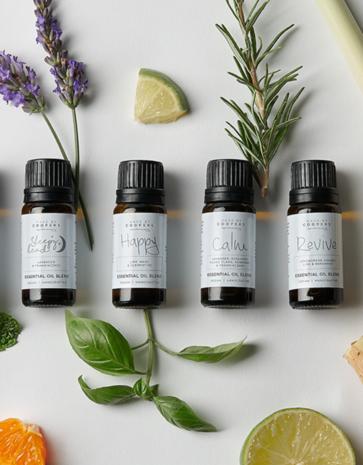 Product description
Bypass your daily slumps with this energising and invigorating mix of four essential oils: the Revive Essential Oil Blend stimulates your mind for more clarity, sharpness and focus. The oil blend with lemongrass, ginger, lime and bergamot is designed to give a boost to all your senses and get you back on track. A tired mind comes to life instantly and any brain fog disappears like magic. The Revive Essential Oil Blend is suitable for use in a diffuser and oil burner. You can also mix the oil with bathwater or a (neutral) massage oil for an energising massage. The oil blend is formulated with organic ingredients, handmade and packaged in a glass bottle with a handy dropper.

This is what the Made by Coopers Revive Essential Oil Blend does for you
  Natural aromatherapeutic effect: stimulates and energises
  Perfect to use in the morning or to stay sharp during work
  Stimulates a tired mind and gives energy
  Can be used in a diffuser, oil burner, bathwater or mixed with a neutral oil for a stimulating massage

How to use Made by Coopers Revive Essential Oil Blend
- Use in a diffuser
- Add a few drops to bathwater
- Mix with other oils or a neutral oil for an energising and stimulating massage (the oil blend of pure essential oils is too strong to apply directly to the skin)
- Use in an oil burner

Active ingredients
Organic lemongrass: energising and zesty. Boosts confidence and self-esteem.
Ginger: stimulating and warming. Relieves stress and anxiety.
Lime: uplifting and refreshing. Alleviates anxiety and depression.
Bergamot: uplifting citrus oil. Boosts mood, relieves stress and anxiety.

All benefits
With a stimulating and energizing aromatherapeutic effect
With essential oils of lemongrass, ginger, lime, and bergamot
Stimulates a tired mind and prevents low energy
Boosts clarity, sharpness and focus
Perfect for use in the morning or to stay sharp during work
Can be used in a diffuser, oil burner, bathwater and mixed with other oils for a stimulating massage
Vegan; registered by The Vegan Society
Handmade with organic ingredients and sustainably produced
Cruelty-free
100% free from parabens, SLSs, mineral oils, palm oil, sulphates, artificial colours and synthetic fragrances
Combine Made by Coopers Revive Essential Oil Blend with:

Made by Coopers Revive Room Spray

Made by Coopers Coffee & Mint Body Scrub

Ingredients/INCI-list
Essential oils of lemongrass*, ginger, lime, bergamot

*=certified organic ingredient

Caution
Keep away from children and pets. Do not drink. Do not apply directly to the skin, always mix with a carrier oil. In case of contact with eyes, rinse thoroughly with cold water.