Manuka Aloe Soothing Face Mist 100ml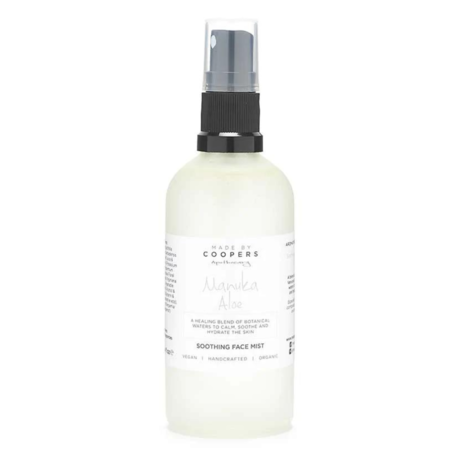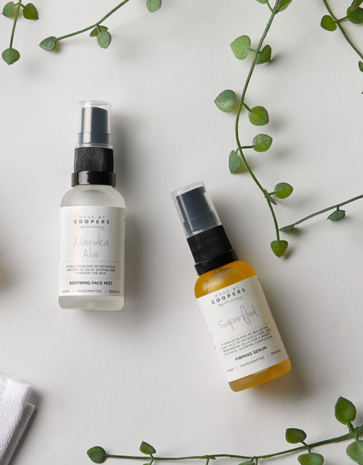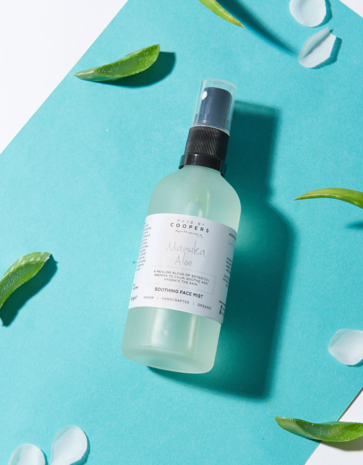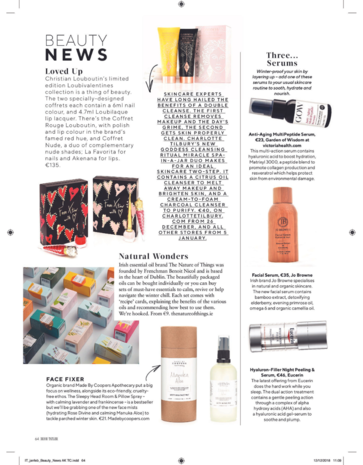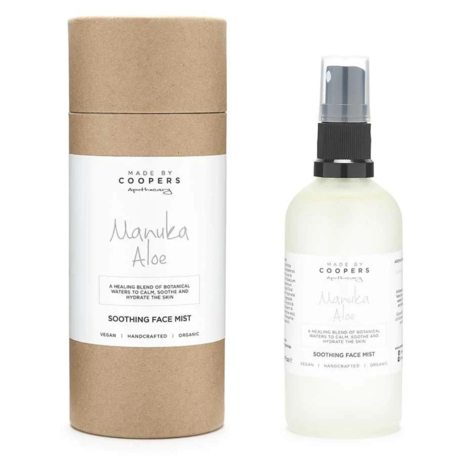 Product description
A combination or oily skin can sometimes make you look greasy because it produces more sebum than dry or normal skin. Despite the overactive sebum production, your skin can still be dehydrated and sensitive. With Made by Coopers' Manuka Aloe Soothing Face Mist, you can bring your skin back into balance. This calming facial spray contains manuka flower and lavender water plus aloe vera juice that give your skin a moisture boost and calm it down. Lavender water has antibacterial properties and helps eliminate impurities and pimples. Aloe vera repairs damaged skin and stimulates cell renewal, leaving your skin smooth and radiant. Spray the mist over a cleansed face or spray it throughout the day when you want to refresh and hydrate your skin. The face mist is suitable for all skin types, particularly combination and oily skin. By the way, the healing blend of botanical water also soothe sunburned skin and insect bites.

This is what the Made by Coopers Manuka Aloe Soothing Face Mist does for you
  Natural aromatherapeutic effect: calming and balancing
  Hydrates and restores combination and oily skin
  Stimulates cell renewal and has an antibacterial effect

How to use Made by Coopers Manuka Aloe Soothing Face Mist
You can use the Manuka Aloe Soothing Face Mist in various ways.
As a toner: spray a few pumps onto cleansed skin before applying a serum, day or night cream. Allow the mist to dry.
As a setting spray: spray the mist over your makeup to make it last longer.
As a daytime boost: use the mist anytime during the day on your face for extra hydration. This will calm both skin and mind.
During the summer: to soothe sunburn and insect bites.

Active ingredients
Manuka flower water: calming and antibacterial flower water from the manuka bush. Keeps the skin smooth and elastic.
Aloe vera juice: repairs the skin, hydrates and stimulates cell renewal.
Lavender flower water: antibacterial. Soothes irritated skin, such as sunburn and insect bites.

All benefits
With a calming and balancing aromatherapeutic effect
Hydrating and refreshing facial spray based on aloe vera juice, manuka flower water and lavender water
With bergamot essential oil for a balancing effect on both skin and mind
Prevents moisture loss and fights impurities like pimples
Suitable for all skin types, especially combination and oily skin
Stimulates cell renewal to give the skin a fresh glow
Calms sunburned skin and insect bites
Handmade with organic ingredients and sustainably produced
Packaged in glass bottle
Vegan; registered by The Vegan Society
Cruelty-free
100% free from parabens, SLSs, mineral oils, palm oil, sulphates, artificial colours and synthetic fragrances
Combine Made by Coopers Manuka Aloe Soothing Face Mist with:

Made by Coopers Superfood Face Firming Serum

Made by Coopers Luna Goddess Night Serum

Ingredients/INCI-list
Lavendula angustifolia Flower Water (Lavender), Aloe barbadensis (Aloe vera) Leaf Juice,  Sodium benzoate, Potassium sorbate, Leptospermum Scoparium (Manuka Floral Water), Hamamelis Virginiana (Witch Hazel), Vegetable Glycerine, Benzyl Alcohol, Salicylic Acid, Glycerin, Sorbic Acid (Preservative eco), Citrus Aurantium Bergamia Peel Oil (Bergamot)

Caution
Keep away from children and pets. Do not drink. In case of contact with eyes, rinse thoroughly with cold water.