Focus Essential Oil 10ml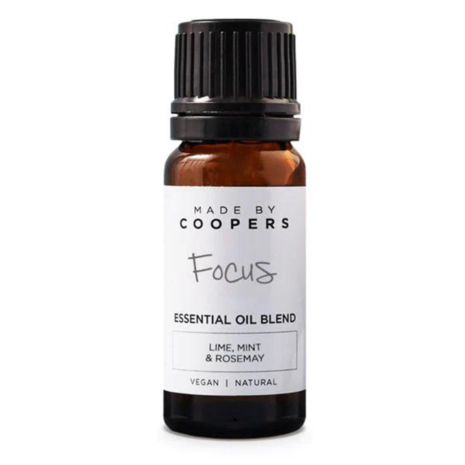 Product description
Peppermint, rosemary and lime ensure that no deadline is missed. Focus Essential Oil Blend from Made by Coopers helps focus, stimulates the senses and turns positive thoughts into positive ones. The Essential Oil Blends from Made by Coopers are suitable for use in a diffuser, in an oil burner, as bath or shower oil and they can be added to massage oil for a fragrant, relaxing massage.
Ingredients
Lime. Refreshing and uplifting.
Mint. Vitalising and purifying.
Rosemary. Dispels negativity, strengthens self-esteem.
All benefits
Natural essential oil blend
Sustainable and 100% natural
Use in a diffuser, oil burner, as a bath or shower oil or add to massage oil
With essential oils of lime, mint and rosemary
Perfect for use before, during or after exercise
Vegan and cruelty free
Contains no parabens, synthetic fragrance and colour, mineral oils and SLS