Comforting Face & Body Oil 100ml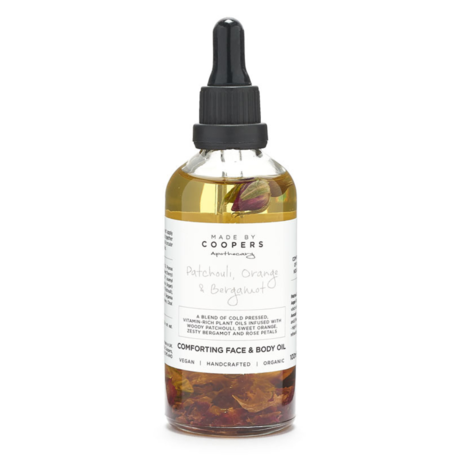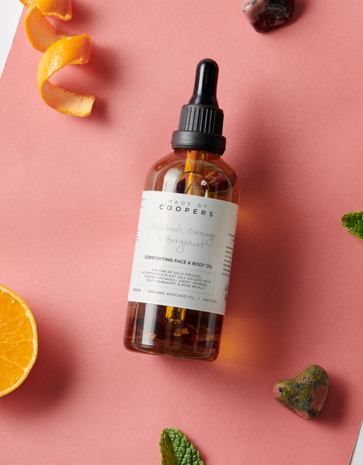 Product description
Nourish, hydrate and protect your face and body with Made by Coopers' Comforting Face & Body Oil. This fine oil based on cold-pressed, vitamin-rich avocado, grape seed, cherry seed and argan oils prevents your skin from drying out and makes it wonderfully soft. Bonus: it stimulates cell renewal to make fine lines and wrinkles less visible. The oil also gives a healthy glow, refines enlarged pores and improves skin elasticity. The oils quickly absorb into the skin and do not leave a greasy feeling. The oil also smells delicious, thanks to essential oils of orange, patchouli and bergamot. Apply the Comforting Face & Body Oil daily. It is also suitable for sensitive skin: it has a calming effect on redness. The oil is also a feast for the eyes: it contains dried rose buds.

This is what the Made by Coopers Comforting Face & Body Oil does for you
  Natural aromatherapeutic effect: calming and comforting
  Nourishing oil that protects and hydrates the skin
  Absorbs quickly into the skin and does not leave a greasy feeling
  Prevents skin ageing and gives the skin a beautiful glow

How to use Made by Coopers Comforting Face & Body Oil
Shake well before use and apply a small amount onto one palm. Rub hands together to warm the oil and apply to the face or body. Massage the oil into the skin using circular motions. You can apply the oil after a bath or shower or during massages. The oil is also suitable for softening dry hair ends or dry nails.

Active ingredients
Argan oil: rich in vitamin E, softens the skin and reduces fine lines and wrinkles.
Avocado oil: a rich oil full of skin-friendly vitamins like vitamin A, B1, B2, D and E.
Cherry kernel oil: contains many antioxidants and vitamin A. Reduces dryness and refines enlarged pores.
Grape seed oil: hydrates dull, dehydrated skin, evens out the complexion and reduces fine lines and wrinkles.
Essential oils of orange and patchouli: calming and grounding, reduces feelings of anxiety and depression. Boosts self-confidence.
Essential oil of bergamot: uplifting citrus oil that improves mood. Also relieves feelings of stress and anxiety.

All benefits
With a calming aromatherapeutic effect
Natural face and body oil with argan oil, grape seed oil, cherry kernel oil and avocado oil
Full of antioxidants and vitamins that protect and hydrate the skin
With essential oils of orange, patchouli and bergamot
Suitable for all skin types, including sensitive skin
Absorbs quickly into the skin, does not leave a greasy feeling
Reduces fine lines and wrinkles
Reduces enlarged pores
Gives the skin a radiant glow
Handmade with organic ingredients and sustainably produced
Vegan; registered by The Vegan Society
Cruelty-free
100% free from parabens, SLSs, mineral oils, palm oil, sulphates, artificial colours and synthetic fragrances
Combine Made by Coopers Comforting Face & Body Oil with:

Made by Coopers Calm Natural Scented Candle

Made by Coopers Eucalyptus Rosemary Bath Salt Blend

Ingredients/INCI-list
Grape seed oil, peach oil, cherry oil, avocado oil*, ecosilk, argan oil, vitamin E, essential oils of patchouli, orange* and bergamot, dried roses

*=certified organic ingredient

Caution
Keep away from children and pets. Do not drink. In case of contact with eyes, rinse thoroughly with cold water.