Calm Essential Oil 10ml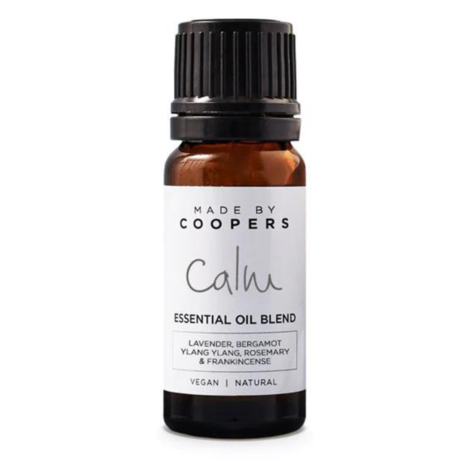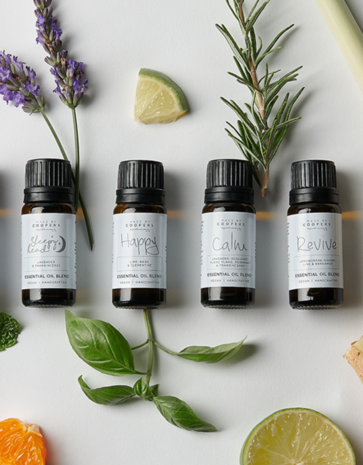 Product description
Do you need instant relaxation in your own home? With Made by Coopers' Calm Essential Oil Blend, you can help your body and mind quickly relax in a natural and aromatherapeutic way, for example, to end your day stress-free. This vegan oil blend is carefully formulated with five essential oils, each precisely balanced to maximize their natural benefits without overwhelming your senses. The blend of essential oils - lavender, frankincense, bergamot, rosemary, ylang ylang - is designed to calm and de-stress the body and mind. You can use the Calm Essential Oil Blend in various ways: in a diffuser, in an oil burner, you can add a few drops to your bathwater and you can mix it with other oils for a relaxing massage. The oil blend is also great to use in a diffuser or oil burner during a yoga or meditation session. The oil blend is made with organic ingredients, handmade and packaged in a glass bottle.

This is what the Made by Coopers Calm Essential Oil Blend does for you
  Natural aromatherapeutic effect: calming
  Perfect for use during yoga and meditation
  Provides natural relaxation and space to take a break
  Can be used in a diffuser, oil burner, bathwater or mixed with a neutral oil for a massage

How to use Made by Coopers Calm Essential Oil Blend
- Use in a diffuser
- Add a few drops to bathwater
- Mix with other oils or a neutral oil for a relaxing massage (the oil blend of pure essential oils is too strong to apply directly to the skin)
- Use in an oil burner

Active ingredients
Bergamot: uplifting citrus oil. Boosts mood, relieves stress and anxiety.
Frankincense: calming and relaxing. Relieves anxiety, chronic stress and removes negative energy in the body. A great scent to use before bedtime. Good for meditation and promoting spiritual enlightenment.
Organic lavender: ultra calming and floral. Alleviates anxiety, stress and depression.
Rosemary: protective, cleansing and grounding. Dispels negativity and boosts self-esteem.
Ylang ylang: sensual and floral, sometimes used as an aphrodisiac. Great stress reliever.

All benefits
With a calming aromatherapeutic effect
Vegan; registered by The Vegan Society
Handmade with organic ingredients and sustainably produced
Supports relaxation and sleep
Reduces anxiety and stress
Perfect for ending the day stress-free or relaxing before bedtime
Can be used in a diffuser, oil burner, bathwater and mixed with other oils for a relaxing massage
Also suitable for use during yoga and meditation
Cruelty-free
100% free from parabens, SLSs, mineral oils, palm oil, sulphates, artificial colours and synthetic fragrances
Combine Made by Coopers Calm Essential Oil Blend with:

Made by Coopers Calm Natural Scented Candle

Made by Coopers Calm Room Spray

Ingredients/INCI-list
Essential oils of: lavender*, bergamot, ylang ylang, rosemary, frankincense *=certified organic ingredient

Caution
Keep away from children and pets. Do not drink. Do not apply directly to the skin, always mix with a carrier oil. In case of contact with eyes, rinse thoroughly with cold water.