Awaken Room Spray 100ml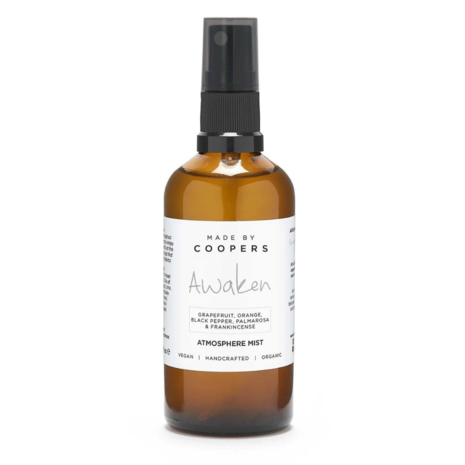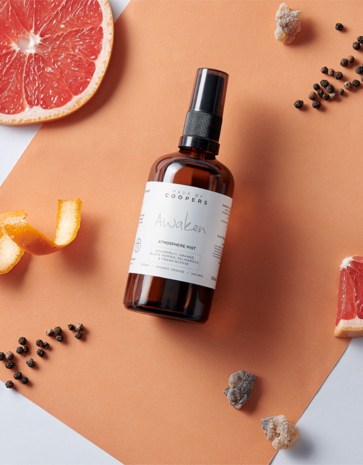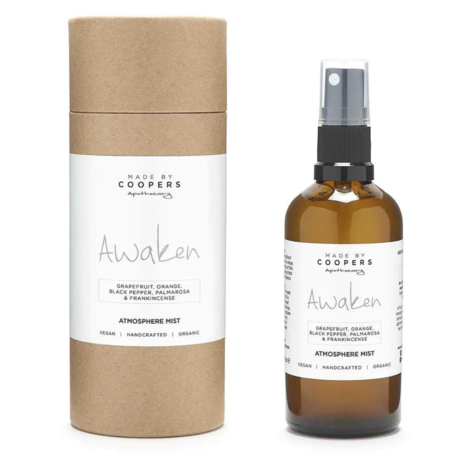 Product description
For a fresh and stimulating kick-start to your day, spritz the Awaken Room Spray from Made by Coopers. This natural room spray has an immediate uplifting and invigorating effect on your mind, helping you start the day positively and awake. The fruity scent boost of the Awaken Room Spray is made with essential oils of grapefruit, palmarosa, organic orange, black pepper and frankincense. With this all-around spray, your home will smell fresh and full of energy from early morning until evening - before switching to a sleep-inducing spray. The mix of uplifting oils helps to improve your mood and gives you new energy when you're feeling down. The Awaken Room Spray is ideal for use as a natural air freshener in bedrooms, bathrooms or living rooms. You can also use it to refresh yoga and exercise mats. The spray is formulated with organic ingredients, handmade and packaged in a glass bottle. Due to its concentrated composition, the scent lingers for a long time, making the room spray economical to use.

This is what the Made by Coopers Awaken Room Spray does for you
  Natural aromatherapeutic effect: energising and stimulating
  Provides a fresh kick-start to the day
  Refreshes the entire house with positive energy, can also be used on pillows and bedding

How to use Made by Coopers Awaken Room Spray
In a room: spray a few pumps into the air throughout the space.
On linen and bedding: hold the spray about 30 centimetres above the fabric and spray a few pumps in sweeping motions.
On yoga and workout mats: spray a few pumps on the mat to refresh it instantly.

Active ingredients
Grapefruit: stimulating and invigorating, gives an instant positive boost to your mood.
Organic orange: zesty and uplifting. Alleviates anxiety and depression. Boosts self-esteem.
Black pepper: soothes heighten emotions and relieves stress.
Palmarosa: uplifting and floral. Strengthens the mind. Calms nerves.
Frankincense: calming and relaxing, alleviates feelings of anxiety and stress.

All benefits
Natural aromatherapeutic effect: energising and stimulating
Provides a fresh and positive kick-start to the day
Alleviates feelings of being down and depressed, providing new energy
With essential oils of grapefruit, palmarosa, orange, black pepper and frankincense
Refreshes your linen and can also be used on yoga and exercise mats
Vegan; registered by The Vegan Society
Handmade with organic ingredients and sustainably produced
Cruelty-free
100% free from parabens, SLSs, mineral oils, palm oil, sulphates, artificial colours and synthetic fragrances
Long-lasting fragrance
Can be used in any room as a natural air freshener
Combine Made by Coopers Awaken Room Spray with:

Made by Coopers Coffee & Mint Body Scrub

Made by Coopers Awaken Essential Oil Blend

Ingredients/INCI-list
Spring Water, Witch Hazel Distillate, Essential Oils of Grapefruit & Orange* & Black Pepper & Palmarosa & Frankincense, Polysorbate 20, Phenoxyethanol, Ethylhexylglycerin

*=certified organic ingredient

Caution
Test before use on an invisible piece of linen/fabric. Keep away from children and pets. Do not drink. In case of contact with eyes, rinse thoroughly with cold water.